Drumhowan Secure Points With Goal At End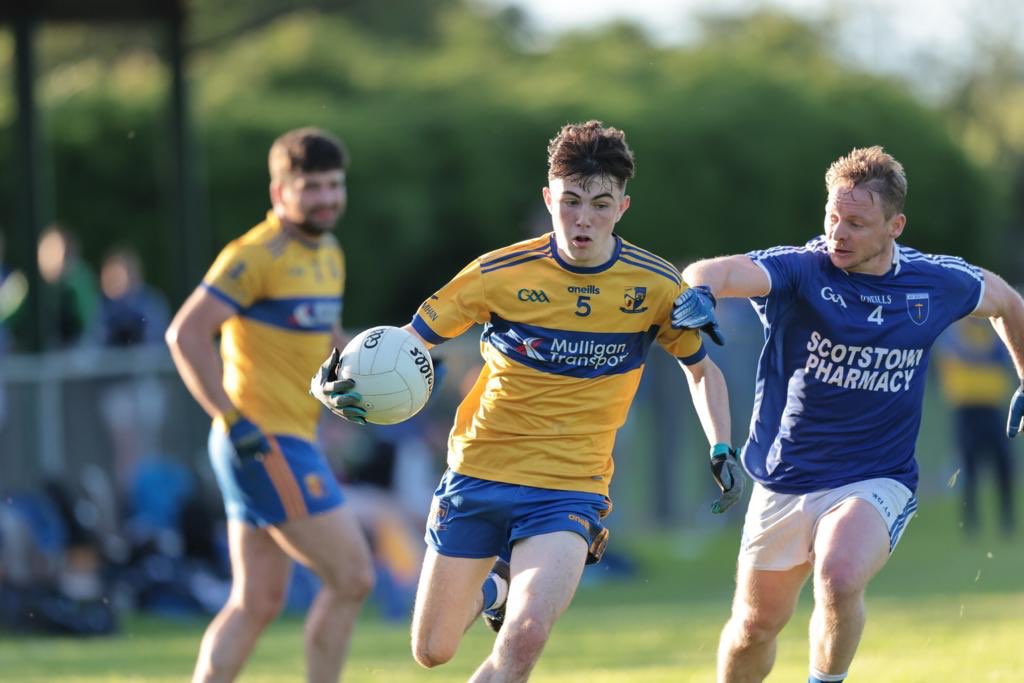 Universal Graphics JFC Group 2 Round 2
Drumhowan 3-6 Scotstown 1-8
Drumhowan secured their first points in their Universal Graphics JFC campaign with a four point victory at a sun soaked Páirc Mhic Eoin on Friday last the 31st July.  While ahead for most of the game Drumhowan tired a little in the final quarter and let Scotstown back into the game  with only a point in it in the dying seconds before Drumhowan confirmed victory  with a Patrick Quinn goal being the final action of the game.
This game was crucial for both teams seeing they both suffered defeats in round 1. As a result there were a number of personnel changes on both teams from round 1. Drumhowan started brightly with  a mark from Aiden Quinn , Drumhowan's first of their campaign and this was shortly followed by a Kevin Mooney goal. Jack Mohan then got Scotstown off the mark with a point from play before Ruairí Sheehan kicked his first free of the day. Aiden Quinn then got a free before Jack Mohan hit Scotstown's last score in the half on the 13th minute.  After the water break both sides were guilty of loosing uncontested possession and a number of wides were kicked by both sides.  In fact the only  two scores in this quarter were a point from JP O' Neill  and a goal from blood sub Ciarán "Laragh" Duffy  to leave Drumhowan in front at half time on a 2-3 to 0-3 scoreline.
The second half opened slowly with both defences on top and there wasn't a score until the 9th minute when Ruairí Sheehan kicked the only point of play from his five scores to leave five in it. Kieran Mooney replied quickly to restore the six points difference.  Further scores from Drumhowan's Kevin Mooney and a free from Micheal Duffy left eight in it when referee Paul Mc Geown called for the second half water break. After only one score in over thirty minutes of football Scotstown took control of the game. Two marks from the game's top scorer Ruairí Sheehan, narrowed the gap and when sub Tiarnan Mc Gonnell scored a goal  there was only three init as the game entered injury time.  Killian Mc Kenna hit his first point of the day and when Ruairí Sheehan kicked a free the game looked like it was heading for a draw with only a point in it. However Drumhowan had other ideas and when they got the ball up the field  Patrick Quinn rifled the ball to the net to put the result of the game beyond doubt.
Team and Scorers
Drumhowan: Enda Duffy, Darren Duffy, Owen Quinn, Paddy Mulligan, Liam Mc Guirk, Daragh Mc Elearney, JP O' Neill 0-1, Anthony Mulligan, Patrick Quinn 1-0, Kevin Mooney 1-1, Aodhán Brennan, Kieran Mooney 0-1, Aiden Quinn 0-2 (1 Mark, 1 Free), Micheal Duffy 0-1 (1f) Subs Used 1st Half:Blood Sub Ciarán Duffy 1-0 for Aodhán Brennan,  HT: Ciarán Duffy for Aiden Quinn 2nd Half: Joseph Duffy for  JP O'Neill, Gerard Quinn for Aodhán Brennan, Aidan Duffy for Ciarán Duffy
Scotstown: Cian Mohan, Kieran Mc Guirk, Kevin Mc Meel,Lorcan Murray, Tristan Moyna, Fergal Mc Phillips, James Corley,  Tommy Moyna, Cian Mc Gonnell, Ryan Caulfield, Jason  Carey, Joseph Mc Kenna, Ruairí Sheehan 0-5 (2M 2F), William Carroll, Jack Mohan 0-2 Subs Used HT: Killian Mc Kenna 0-1 for James Corley, Shane Rice for Jason Carey, Peter Hamill for Cian Mc Gonnell, Paraic Keenan for Lorcan Deery 2nd Half: Tiarnan Mc Gonnell 1-0  for Jack Mohan,   Referee: Paul Mc Geown